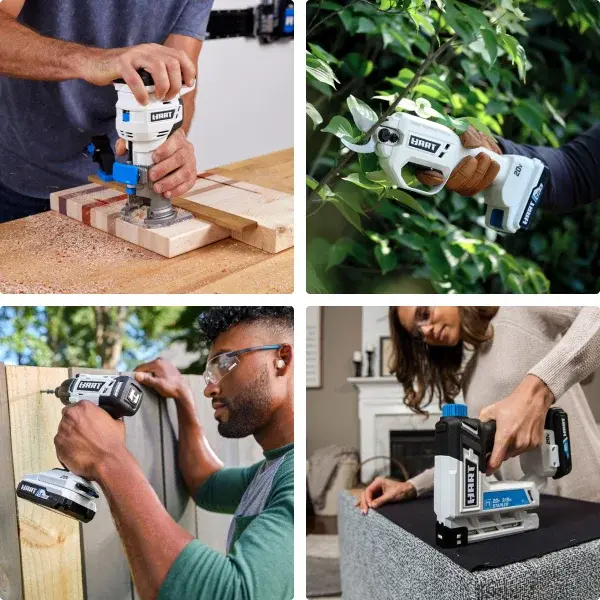 USED AND TRUSTED BY REAL PEOPLE.
papaceebz
"I recommend this to anyone who needs a lightweight, easy to use blower for small projects."
Boney
"I'm absolutely in love with this sweeper!"
lehmatt
"I used this trimmer around my house and it did a great job! It was overgrown and badly needed to be trimmed. This trimmer cut right through all of the grass and weeds without any issues."
Related Content
The 4 Best Tools Under $200

Quiz: Find Out Which String Trimmer is Best For Your Yard

It's Time To Cut The Cord Outdoors
Thank you for your purchase! Let us know what you think by posting a review. We always appreciate the feedback.
What's in the box?
(1) 20V Axial Blower
(1) 20V 2.0Ah Lithium-Ion Battery
(1) 20V Fast Charger
(1) Blower Tube
(1) Operator's Manuals
10" String Trimmer
Battery

20V Lithium-Ion

Cutting Swath

10"

Weight

4.0 lbs
Bazooka Blower
Battery

20V Lithium-Ion

Air Volume

200 CFM

Air Speed

90 MPH

Weight

4.5 lbs
Warranty Information
All HART 20V Power Tool and Lawn & Garden products are covered by a 3-year limited warranty. All HART 40V Outdoor Tools are covered by a 5-year limited warranty. All HART 40V batteries are covered by 3-year limited warranty. Hand Tools (tape measures, hammers, pliers, etc.) are covered by a limited lifetime warranty. Click on the link below for specific warranty details.
Warranty Info
Customer Support
If you have a service-related question or have issues with a tool, visit our support site, where we will be honored to assist you.
Get Support